The Jeep trailer was a small 1/4-ton cargo trailer designed to be towed by U.S. Army Jeeps.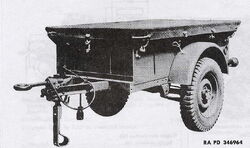 When the Army developed the Willys MB it needed a cargo trailer that would track behind the vehicle. The first trailer was called the "Trailer, 1/4-ton, 2W, cargo, Amphibian". The second version which was built for the Willys M38, was called the M100 trailer, and the third version, for the M151 MUTT was called the M416 trailer.
The World War II version came in both the standard, and K-38A versions. the K-38A was a modification of the K-38 trailer for the U.S. Army Signal Corps
The Korean War version, or M100 was also modified into the M367 trailer for the Signal corps. and also came in a plain chassis the M116.
The Vietnam War version, or M416 came in the following modifications. M416A1, M416B1, M569 chassis, and V-498 trailer for AN/TTC-41.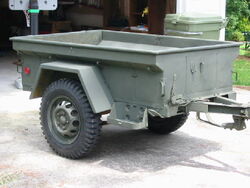 References
Edit
TM 9-2800 Standard Military Motor Vehicles. dated 1 sept. 1943
TM 9-2800 Military vehicles dated Oct. 1947
TM 11-227 Signal Communication Directory. dated 10 April 1944
TM 11-487 Electrical Communication systems Equipment. dated 2 Oct. 1944
TM 9-2330-251-14 Trailer Cargo 1/4Ton [1]
External links
Edit