Kaiser M715

Manufacturer

Kaiser Jeep
Also called

Five Quarter

Production
1967-1969
Predecessor

Dodge M37

Successor

Dodge M-880 series

Class

Full-size

pickup truck

Layout

Four-wheel drive
The Kaiser Jeep M715 is an American wheeled military vehicle based upon the civilian Jeep Gladiator. In 1965 the design and developing for the M715 began. The U.S. Government purchased these trucks to replace the M37. Between 1967 and 1969 over 33,000 trucks were produced at the Toledo, Ohio plant. The overhead cam 6 cyl engines were not very reliable. They had been dropped from civilian models by 1968. The trucks were replaced by the Dodge M880 series.
Kia is currently designing an M715-type vehicle named the KM450 for the South Korean Army on license from the U.S. Government. India's Tata/Vectra is also entering an M715 type vehicle as a candidate for the Indian Army's LSV requirement.
In 2010 Mopar developed the concept vehicle Jeep NuKizer 715. It was a tribute to the original M715.
Jeep M715 Series
[
]
M715 variants include:
M715 - cargo/troop carrier
M724 - cab/chassis
M725 - ambulance
M726 - telephone maintenance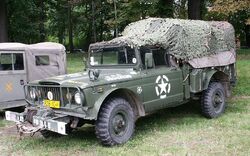 Specifications
[
]
Length:

With winch 220.75 in (5,607 mm)
Without winch 209.75 in (5,328 mm)

Width: 85 in (2,159 mm)
Height:

At bed (with cargo cover installed) 87.7 in (2,228 mm)
At cab 75 in (1,905 mm), Reducible to 59 in (1,499 mm)

Weight: 5,180 lb (2,350 kg)
Engine: Inline 6-cyl, 230.5ci overhead camshaft Tornado
Horsepower: 132.5 hp (98.8 kW)
Transmission: Warner, T-98 four-speed, synchronized
Transfer case: 2 speed, NP200, 1.91:1 low range
Axles:

front: Dana 60
rear: Dana 70 full-floater
ratio: 5.87:1

Electrical system: 24 volt utilizing two 12 volt batteries in series
Brakes: Hydraulic, 4-wheeled drum
Fuel type: gas
Fuel capacity: 28 US gal (106 L; 23 imp gal)
Top speed: 55 mph (89 km/h)
Turning radius: 28 feet (9 m)
Tires: 9.00 x 16 8-ply
Trivia
[
]
The Kaiser Jeep M715 is called a 1¼ ton, or Five quarter ton truck.
It was built for the U.S. military based on the civilian Jeep Gladiator.
The M715 family saw service in Vietnam, Korean DMZ and European bases
The M715 family was produced from 1967 through 1969.
See Also
[
]