The Willys CJ (later Jeep CJ) (or Civilian Jeep) is a public version of the famous Willys Military Jeep from World War II.
The first CJ prototype (the Willys CJ-2) was introduced in 1944 by Willys, and the same basic vehicle stayed in production through seven variants and three corporate parents until 1986.
A variant of the CJ is still in production today under license. The last CJs, the CJ-7 and CJ-8, were replaced in 1987 by the Jeep Wrangler.
Also available were two-wheel-drive variants, known as DJs.[1]
Willys-Overland CJ-1

| | |
| --- | --- |
| Production | 1944 |
By 1944, the Allies were confident the war would be won. This allowed Willys to consider designing a Jeep for the post-war civilian market. Documentation is hard to come by, but it seems that a Willys-Overland CJ-1 (for "Civilian Jeep-1") was running by May of that year. The CJ-1 was apparently an MB that had been modified by adding a tailgate, drawbar, and a civilian-style canvas top. None of the CJ-1s built have survived, and it is not known (at this writing) how many were built.[2]
Willys-Overland CJ-2

| | |
| --- | --- |
| Production | 1944-1945 |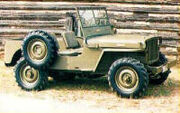 Although it bore the CJ name, the Willys-Overland CJ-2 was not really available at retail. The CJ-2s, also known as "AgriJeeps," were the second generation prototype for the first production civilian Jeep, and were used solely for testing purposes. It was directly based on the military Willys MB, using the same Willys Go Devil engine, but stripped of all military features, particularly the blackout lighting. They had tailgates, Power Take-offs ("PTO"s), engine governors, column-shift T90 transmissions, 5.38 gears, 2.43:1 low-range transfer cases, and driver's-side tool indentations. The earlier models had brass plaques on the bonnet and windscreen that read "JEEP". Later models were stamped "JEEP" a la the familiar "WILLYS" stamping that appeared on the CJ-2A and later models. Some CJ-2s had "AgriJeep" plaques affixed to the dash. The spare tire was mounted forward of the passenger-side rear wheel on the earlier models and aft of the rear wheel on later ones. It seems that CJ-2s were distributed to "agricultural stations" for evaluation purposes. Of the 45 CJ-2s built, serial numbers CJ2-06, CJ2-09, CJ2-11, CJ2-12, CJ2-14, CJ2-26, CJ2-32, CJ2-37 and CJ2-39 have survived. Only CJ2-09 has been restored.[3]
Willys-Overland CJ-2A
Production
1945-1949
Lessons learned with the CJ-2 led to the development of the first full-production CJ, the 1945-1949 Willys-Overland CJ-2A. The CJ-2A looked very much like a civilianized MB with a tailgate and side mounted spare tire. One major difference between the MB and the CJ-2A can be found by looking at the grilles of the two vehicles. The MB had recessed headlights and nine-slot grilles while the CJ2A had larger headlights flush-mounted in a seven-slot grille. In place of the MB's T-84 transmission, the CJ-2A was equipped with the beefier T-90 three speed transmission. However, the CJ-2A was still powered with the reliable L-134 Go-Devil engine. Many of the early CJ-2As were produced using surplus military Jeep parts such as engine blocks and, in a few cases, modified frames.
Since the CJ-2A was primarily intended for farming, ranching, and industrial applications, a wide variety of extra equipment could be purchased with the Jeep. Examples of extra equipment are: rear seat, center rear view mirror(Stock CJ-2As came with only a driver side mirror), front passenger seat (Stock CJ-2As only came with a driver seat), canvas top, front PTO, rear PTO, belt pulley drive, capstan winch, governor, rear hydraulic lift, snow plow, welder, generator, mower, disc, front bumper weight, heavy duty springs, dual vacuum windshield wipers (stock CJ-2As were equipped with a manual wiper on the passenger side and a vacuum wiper on the driver side), dual taillights (Stock CJ-2As had a taillight on the driver side and a reflector on the passenger side), and hot-climate radiator, driveshaft guards, heater, side steps, and radiator brush guard.
CJ-2As were produced with very unique, lively, and sometimes downright ugly color combinations. From 1945 to mid-1946, CJ-2As were only available in two color combinations: Pasture Green with Autumn Yellow wheels and Harvest Tan with Sunset Red wheels. Additional color combinations added in mid-1946 were: Princeton Black with Harvard Red or Sunset Red wheels, Michigan Yellow with Pasture Green, Sunset Red or Americar Black wheels, Normandy Blue with Autumn Yellow or Sunset Red wheels, and Harvard Red with Autumn Yellow or Americar Black wheels. The Pasture Green and Harvest Tan combinations were dropped later in 1946. The Harvard Red combinations were dropped in 1947 and replaced with: Picket Gray with Harvard Red wheels, and Luzon Red with Universal Beige wheels. In 1948, the following color combinations were also added: Emerald Green with Universal Beige wheels, Potomac Gary with Harvard Red or Americar Black wheels. For 1949, the Picket Gray, Michigan Yellow, and Normandy Blue combinations were dropped. Olive drab was also available for export models.
On early CJ-2As, the front seats were covered in Slate Gray vinyl and the rear seat (if ordered) was covered in olive drab vinyl. Later in production, seats could be Barcelona Red, Slate Gray, or olive drab.
A total of 214,760 CJ-2As were produced.
Willys-Overland CJ-3A
Production
1949-1953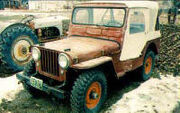 The Willys-Overland CJ-3A was introduced in 1949, and replaced the CJ-2A by the next year. It featured a one-piece windshield with a vent as well as wipers at the bottom, and a beefed up suspension to accommodate the various agricultural implements that were being built for the vehicle.[4] Another difference was a shorter rear wheelwell (the wheelwell from the top front edge to the rear of the body is 32 in on the 3A compared to 34 in on the 2A) and moving the drivers seat rearward.[5] A bare-bones Farm Jeep version was available starting in 1951 with a power takeoff. 131,843 CJ-3As were produced before the series ended in 1953.
Willys-Overland CJ-4

| | |
| --- | --- |
| Production | 1951-1953 |
| Wheelbase | 81 in |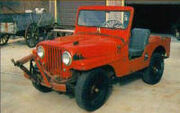 Only one Willys-Overland CJ-4[6] was ever built as an experimental concept in 1951. It used the new Willys Hurricane engine and had an 81 inwheelbase.
The CJ-4 body tub was an intermediate design between the straightforward raised hood from the CJ-3B and the all new curved body style of the CJ-5.
The design was rejected and the vehicle eventually sold to a factory employee.
Willys CJ-3B
Production
1953-1968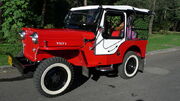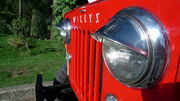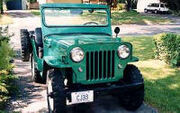 The Willys CJ-3B replaced the CJ-3A in 1953, the same year Willys was sold to Kaiser. Kaiser removed "Overland" from the subcompany name. CJ-3B introduced a higher grille and hood to clear the new Willys Hurricane engine. The CJ-3B was produced until 1968 with a total of about 196,000 [7] produced, although the design was licensed to a number of international manufacturers, including Mitsubishi of Japan and Mahindra of India. Mitsubishi ceased production of vehicles derived from the CJ-3B design in 1998 after selling approximately 200,000 units.[8] Mahindra continues to produce Jeeps based on the Willys CJ-3B today. M606 was a militarized version of CJ-3B.
The Jeep was introduced to the Japanese market as the Jeep J3 in July 1953 after Willys allowed to agree for Mitsubishi to market the car themselves. The name was not in reference to "CJ3", but rather denoted the fact that 53 "J1"s (CJ3-A with 6-volt electrics) were built for the Japanese regional forest office and circa 500 "J2"s (CJ3-A with 12-volt electrics) were built for the National Safety Forces.[9] Mitsubishi was to continue production of vehicles derived from the CJ-3B design until August 1998, when tighter emissions and safety standards finally made the Jeep obsolete. In total, they built approximately 200,000 units. Short, medium, and long wheelbases were available, as well as a variety of bodystyles and gasoline as well as diesel engines.[10]
The original J3 was a basic, doorless and roofless version, still with left hand drive even though the Japanese drive on the left. The first right-hand drive versions didn't appear until nearly eight years later (J3R/J11R). The original J3 and its derivatives were equipped with the 2199 cc F-head "Hurricane" (called JH4 by Mitsubishi, for Japanese Hurricane 4-cylinder) inline four cylinder, originally producing 70 PS at 4,000 rpm.[11] In 1955 a slightly longer wheelbase J10 which could seat six was added, and in 1956 the J11 appeared, a two-door "delivery wagon" with a full metal body. This was considerably longer, at 433 cm versus 339 cm for the J3.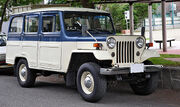 Local production of the JH4 engine commenced in 1955. A locally developed diesel version (KE31) was introduced for the JC3 in 1958, originally with 56 PS at 3,500 rpm but with 61 PS at 3,600 rpm a couple of years later.[11] By 1962, the output of the gasoline JH4 engine had crept up to 76 PS. By the time of the introduction of the longer J20 in 1960, a six seater like the J10 but with a differently configurated (more permanent) front windshield as well as available metal doors, Mitsubishi had also added small diagonal skirts to the leading edge of the Jeep's front fenders. This style was to remain the last change to the sheetmetal up front until the end of Mitsubishi Jeep production in 1998.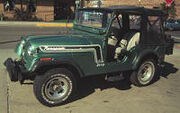 The Willys CJ-5 (after 1964 Jeep CJ-5) was influenced by new corporate owner, Kaiser, and the Korean War M38A1 Jeep. It was intended to replace the CJ-3B, but that model continued in production. The CJ-5 repeated this pattern, continuing in production for three decades while three newer models appeared. "The CJ-5 has the distinct honor of being a vehicle that was hard to kill off... equaling the longest production run of note."[13] A total of 603,303 CJ-5s were produced between 1954 and 1983.
In 1965, Kaiser bought the casting rights to the Buick 225 cu in (3.7 L) V6 Dauntless and the CJ-5 and CJ-6 got a new engine with 155 hp supplementing the Willys Hurricane engine.
A similar model, the Jeep DJ, was based on the CJ.
The company was sold to American Motors (AMC) in 1970, and the GM engine was retired after the 1971 model year. (GM's Buick division repurchased the engine tooling in the early 1970s which served as the powerplant in several GM vehicles.) The "Trac-Lok" limited-slip differential replaced the "Powr-Lok" in 1971.
American Motors began using their own engines in 1972. Replacing the Hurricane was the one-barrel 232 cu in (3.8 L) (except in California). Optional was a one-barrel 258 cu in (4.2 L) (standard in California). Also in 1972, AMC's 304 cu in (5 L) engine became available in the same tune as a base V8 muscle car. To accommodate the new engines the fenders and hood were stretched 5 in starting in 1972 and the wheelbase was stretched 3 in. Other drive train changes took place then as well including the front axle became a full-floating Dana 30.
In 1976 the tub and frame were modified slightly from earlier versions. The windshield frame also changed meaning that tops from 1955-1975 will not fit a 1976-1983 CJ-5 and vice-versa.
In 1979, the standard engine become the 258 cu in (4.2 L) that now featured a two-barrel carburetor.
From 1980 to 1983, the CJ-5 came standard with a "Hurricane"-branded version of the GM Iron Duke I4.
Several special CJ-5 models were produced:
1961-1963 Tuxedo Park Mark III
1965 "Tuxedo Park Mark IV"
1969 462
1970 Renegade I
1971 Renegade II
1972-1983 Renegade Models — featuring a 304 cu in (5 L) V8, alloy wheels, and a Trac-Lok limited-slip differential
1973 Super Jeep
1977-1983 Golden Eagle
1979 Silver Anniversary
Early Tuxedo Park models were trim lines, but the Tuxedo Park Mark IV was claimed as a separate model than the other CJ series (marked in 1965 as the "Universal"), with more differences than past models. The Tuxedo Park Mark IV was an attempt to crack the mass market; it was, according to Jeep, "a new idea in sports cars ... the sportiest, most FUNctional car on the automotive scene." It added to the standard CJ chrome bumpers, hood latches, gas cap, mirror, and tail lamp trim. 81 and 101 inch wheelbases were available, with a variety of convertible top and seat colors, and front bucket seats in "pleated British calf grain vinyl." Sales of this model, introduced in 1965, were low.[20]
In Australia, a unique variant of the CJ5/CJ6 was produced in limited numbers. In 1965, when the CJ was given the all-new Buick V6, Jeep saw the need for something similar in Australia. As such, they began to fit Falcon 6 cylinder engines to them at their Rocklea factory in Queensland. The jeep was fitted with an engine, pedal box and clutch/brake system corresponding to the equivalent Falcon at the time; i.e. a 1965 CJ5 would be fitted with 1965 Falcon engine/clutch components. When the Falcon received a hydraulic clutch system, so too did the Jeep. Combat 6 jeeps were also fitted with Australian Borg Warner differentials, and Borg Warner brand gearboxes. Unfortunately there is very little documentation about these jeeps, and often the only way to conclusively identify them is by owner history. Web page describing Jeep's presence in Australia, including the "Combat 6"
The CJ-6 was simply a 20 inch longer-wheelbase (101 in) CJ-5. Introduced in 1955 as a 1956 model, the CJ-6 was never very popular in the United States. Most CJ6 models were sold to Sweden and South America. The U.S. Forest Service put a number CJ-6 Jeeps in to use. American sales ended in 1975. Just 50,172 had been made when the series went out of production completely in 1981. Just as in the CJ-5, the V6 and V8 engine choices appeared in 1965 and 1972. Former President Ronald Reagan owned a CJ-6 and used it on his California Ranch.[21]
CJ-5A & CJ-6A

| | |
| --- | --- |
| Production | 1964-1968 |
From 1964-1968 Kaiser elevated the Tuxedo Park from just a trim package to a separate model for the CJ-5A and CJ-6A. A Tuxedo Park Mark IV is signified by a different prefix from a normal CJ-5 with a VIN prefix of 8322, while a normal CJ-5 VIN prefix is 8305 from 1964-1971.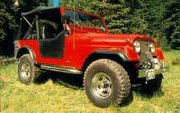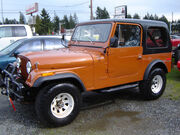 The Jeep CJ-7 featured a longer wheelbase than the CJ-5 and lacked the noticeable curvature of the doors previously seen on the CJ-5. The other main difference to the CJ-5 was to the chassis which hitherto consisted of two parallel longitudinal main c-section rails. To help improve vehicle handling and stability the rear section of the chassis stepped out to allow the road springs and dampers to be mounted closer to the outside of the body. It was introduced in 1976 and 379,299 were built during 11 years of production.
The CJ-7 featured an optional new automatic all-wheel drive system called Quadra-Trac, as well as a part-time two speed transfer case; an automatic transmission was also an option. Other features included an optional molded hardtop, and steel doors. The CJ-7 was also available in Renegade and an upgraded Laredo model. Noticeable by their different body decals, the Laredo model featured nicer seats, steering wheel tilt, and a chrome package that included the bumpers, front grill, and mirrors. An optional Trak-Lok differential was available for the rear. Rear axle ratio typically 3.54, but later went up to 2.73.
The reports of the CJ7 were different in each type of engine: the 2.4 liter diesel was mated to the short 4.10 axle (in both Renegade and Laredo), while the 4.2 and 2.5 straight sixes used 3.73 and AMC V8 304-powered models (produced 1976-1981, which became part of the Golden Eagle version) used 3.55.
From 1976 to 1980 was mounted a Dana 20 transfer case, Dana 30 front axle (27- or 31-spline), and an 29-spline AMC 20 rear axle, while in recent years, Laredo package added tachometer, chrome bumpers, hooks[clarification needed] and interior, comfortable leather seats, and clock. In 1980, the Laredo was first fitted with a Dana 44 rear end and Dana 300; the 300 is still in production and highly sought after by lovers of off-road.
During its 11 years, the CJ-7 had various equipment packages:
Renegade 1976-1986 (2.4D L6-2.5-4.2-5.0 V8)
Golden Eagle 1976-1979 (5.0 V8)
Laredo 1982-1986 (2.4D-4.2 l6)
Jamboree Edition (Limited Edition 2500 models which were built for the 30th anniversary 2.5 and 4.2)
A diesel-powered version was made in the Ohio factory for export only. The engines were provided by General Motors, the owners of Isuzu Motor Cars. Production of this diesel version is believed to have been only between 1980 and 1982. This model had the Isuzu C240 engine, T176 transmission, Dana 300 transfer case although there are reports of some being produced with the Dana 20. Typically they had 4.1 ratio, narrow track axles.
The CJ-7 continues to be used in the sport of mud racing, with either the stock body or a fiberglass replica. It is also a favorite for rock crawling.
Engines
150 cu in (2.5 L) AMC I4
151 cu in (2.5 L) GM Iron Duke I4
232 cu in (3.8 L) AMC I6
258 cu in (4.2 L) AMC I6 99.4 PS (73 kW; 98 hp), 261 N·m (193 lb·ft)
304 cu in (5 L) AMC V8 127 PS (93 kW; 125 hp), 296 N·m (218 lb·ft)[21]
145 cu in (2.4 L) Isuzu Diesel C240

Transmissions
Warner T-18 (4 speed)
Borg-Warner T-4 (4 speed)
Borg-Warner T-5 (5 speed)
Tremec T-150 (3 speed manual)
Tremec T-176 (4 speed manual)
Borg-Warner SR-4 (4 speed)
GM TH-400 (3 speed automatic)
Chrysler TF-999 (3 speed automatic transmission - 4.2L)
Chrysler TF-904 (3 speed automatic transmission - 2.5L)
Transfer Cases
Dana 20 (1976–79)
Dana 300 (1980–86)
Borg-Warner QuadraTrac #1339 (1976–1979)
Axles
Dana 30 Front (1976–86)
2-Piece AMC 20 Rear (1976–86)
Dana 44 Rear (1986)
The Jeep (CJ-8) Scrambler was a pickup truck version of the CJ-7, introduced in 1981. It featured a 103 in wheelbase and a pickup bed. Only 27,792 were built in the five years of production before being replaced by the similarly-sized Comanche.
The Jeep Scrambler (CJ-8) did not offer the Quadra-Trac system. The majority of Jeep Scramblers (CJ-8) used the traditional transfer case and manual front-locking hubs to engage the four-wheel drive. Most Scramblers (CJ-8) used a four- or five-speed standard transmission but a three-speed automatic transmission was an available option.
A full length steel hardtop CJ-8 based on the Scrambler was made for the Alaskan Postal Service, using right hand drive and automatic transmissions. Instead of the rear tailgate the steel hardtop utilized a hinged barn door opening to the back. There were only 230 of these produced and sold in the US. This version was also widely sold in Venezuela and Australia as the "CJ8 Overlander", with small differences including full length rear windows on the Overlander.
Former U.S. President Ronald Reagan also owned a blue Scrambler (CJ-8) and used it on his California "Rancho del Cielo" property (image)[23] with the license plate "Gipper."[24]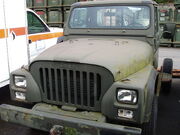 The Jeep CJ-10 was a CJ-based pickup truck. Produced from 1981 through 1985, it was sold mainly as an export vehicle, though some were used by the United States Air Force for use as an aircraft pulling vehicle (see CJ-10a). They featured square headlights mounted in the fenders and a 9-slot grille, a homage to the old Jeeps of WWII which originally had a 9 slot grille (the civilian model, the CJ-2 and 2a, were given a 7 slot grille as a distinction between the military and civilian models).
The Jeep CJ-10a was a CJ10-based flightline aircraft tug. Produced in Mexico from 1984 through 1986, were used by the United States Air Force for use as an aircraft pulling vehicle. About 2300 of them were produced. Image link
Community content is available under
CC-BY-SA
unless otherwise noted.